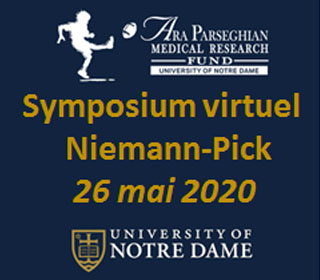 La Fondation Parseghian et l'Université Notre-Dame (Indiana, USA) proposent une série de symposiums gratuits sur la maladie de Niemann-Pick type C (NPC), la fonction lysosomale, et le trafic intracellulaire du cholesterol. Il existe pour l'instant deux sessions, et d'autres sont programmées. Au delà de la NPC, ces sessions abordent d'une manière plus générale le métabolisme lipidique avec une approche intracellulaire (stockage, contact site, trafic de lipides, etc…).
La prochaine session aura lieu mardi 26 mai (voir programme ci-dessous). Vous pouvez vous inscrire et créer votre mot de passe en contactant l'organisateur, Sean Kassen. Vous pourrez ainsi accéder à la page de la fondation Parseghian afin d'assister à la session.
Programme de la session 3,
mardi
prochain (Begins on Tuesday, May 26 at 11:00 AM (Eastern):
Session #3 – NPC Models & Approaches – Program & Abstract Book
Schedule
11:00 am              Welcome: 
Dr. Sean Kassen, Director of the APMRF
Dr. Fred Maxfield, Conference Co-Chair and Session #3 Leader
11:05 am            Dr. Daniel Heller 
Nanotechnologies for Lipid Detection and Intracranial Drug Delivery
11:25 am            Dr. Viviana Gradinaru
Systemic Gene Delivery to the Central and Peripheral Nervous Systems and Applications to Neurodegeneration
11:45 am             Dr. Eamonn Dickson
Dysfunctional Ca2+signaling leads to altered synaptic plasticity in Niemann-Pick Type C
12:05 am             Dr. Charles Vite 
Intracisternal administration of AAV-fNPC1 restores NPC1 expression to Purkinje cells and ameliorates cerebellar ataxia in feline NPC1
12:25 pm             Dr. John Pluvinage 
Mechanisms of microglial dysfunction in Niemann-Pick Type C
12:45 pm             Break
12:50 pm             Dr. Mark Schultz
Species-specific NPC1 proteostasis
1:00 pm                Dr. Kevin Vaughan
Direct Stimulation of StARD9 as a Novel Strategy to Overcome Niemann Pick Type C Disease
1:10 pm                 Dr. Paul Helquist & Dr. Olaf Wiest
Bio-organic tools for study of NPC pathways and drug delivery
1:20 pm                Speed Poster Presentations 
Dr. Niamh Cawley
N-linked glycosylation: a potential modifier of Niemann-Pick disease, type C1 pathology
Dr. Zhenya Ivakine
Modeling Niemann–Pick disease type C in a human haploid cell line allows for patient variant characterization and clinical interpretation
Insung Kang
An iPSC-derived, inducible neuronal model of Niemann-Pick disease, type C1
Antony Cougnoux
Reduction of Glutamate Neurotoxicity: A Novel Therapeutic Approach for Niemann-Pick disease, type C1

Dr. William Garver
The human Niemann-Pick C1 gene interacts with modifying genes to promote obesity and diabetes
Angela Smith
Survival of Mouse Model of Neimann Pick disease type C1 is reduced by haploinsufficiency of Tau

Dr. Ileana Soto
NPC1 deficiency impairs cerebellar postnatal development of microglia and climbing fiber refinement in a mouse model of Niemann-Pick Type C disease.
1:30 – 2:15 pm      Speaker Discussion & Virtual Poster Session Open
Date : A partir du 26 mai 2020
Lieu : Sessions virtuelles online - Fondation Parseghian, Notre Dame University
Lien officiel : https://parseghianfund.nd.edu/virtual-symposium-conference-page/